Happy March! It's at last time to reveal the cover art for the hardcover edition of my upcoming queer body horror novel from Rooster Republic through their imprint Strangehouse Books: Queen of Teeth! Feast your eyes on this gorgeous art by Nicholas Day, with the synopsis beside it: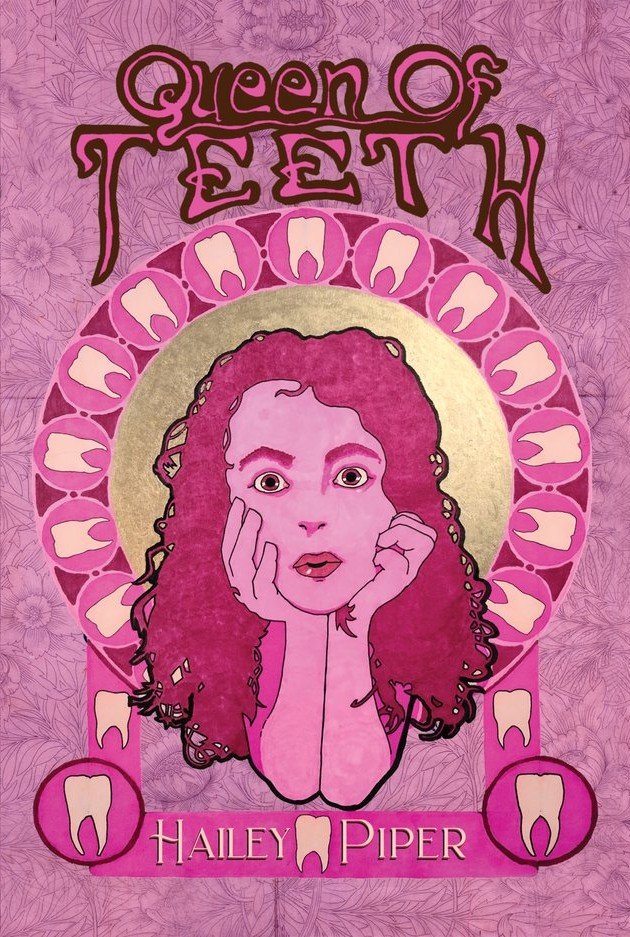 Within forty-eight hours, Yaya Betancourt will go from discovering teeth between her thighs to being hunted by one of the most powerful corporations in America.
She assumes the vagina dentata is a side effect of a rare genetic condition caused by AlphaBeta Pharmaceutical, decades ago, when she and several thousand others were still in the womb.
But, when ABP corporate goons upend her life, she realizes her secondary teeth might be evidence of a new experiment for which she's the most advanced test tube . . . a situation worsened when Yaya's condition sprouts horns, tentacles, and a mind of its own.
On the run and transforming, Yaya may be either ABP's greatest success, or the deadliest failure science has ever created.
The hardcover can be pre-ordered directly from Rooster Republic from today until June 30. After that, no more hardcovers will be available, but the paperback will release in late October/early November with cover art by Don Noble. If you check the site, you'll also find the book's first few paragraphs, the hardcover's interior artwork, and more.
Hardcover orders will ship out in July. I can't wait for you to meet the Queen.