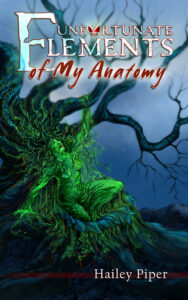 The body of this post features a treasure trove of unfortunate elements. Feast your eyes on the cover for Unfortunate Elements of My Anatomy, my upcoming and first short story collection, published by The Seventh Terrace. Cover and interior art by the amazing Janice Blaine; introduction by the wonderful Laurel Hightower.
The collection releases on May 7, 2021 and the ebook is up for pre-order on Amazon. I can't wait to share with you.
Synopsis:
Love twisted into horrific shapes, nightmares driven by cruel music, and a world where what little light remains fractures the sky into midnight rainbows in eighteen stories tracing the dark veins of queer horror, isolation, and the monstrous feminine.
The universe unwinds to the tune of a malicious ice cream truck jingle in "We All Scream". "The Law of Conservation of Death" dictates that a ghost pursue his prey across her every reincarnation. Superstitions thrive even in the distant future and across the stars when a colony shuttle mounts a witch trial in "Hairy Jack". And try to "Forgive the Adoring Beast" as it scavenges a world of dead gods for tokens of bloody affection.
Including two new short stories and a never-before-published novelette, Unfortunate Elements of My Anatomy digs deep inside us and clings to the beating nightmare heart you always knew was there.