In a rare instance of punctuality this year, I'm posting about a release on release day. Can you imagine?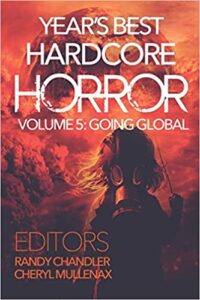 Today Red Room Press releases The Year's Best Hardcore Horror, Volume 5: Going Global, a stunning anthology of 2019's hardest hitting, most gruesome, and darkest horror short stories. My flash fiction "Feast for Small Pieces" is the first story you'll see inside, followed by a host of wonderful horror.
This is the first time one of my works has been included in any Best of anthology, so it's extra special to me for that. Available in ebook and paperback, with an audiobook on the way!
Also, the first Hailey's Comments newsletter went out today. If you're not already subscribed, change that for the better here.