Happy Friday the 13th, everyone! Let's get some horror going.
First up, The Possession of Natalie Glasgow is now available in audiobook from Amazon! TPONG is my debut novella, and though I had hoped to release the audiobook in time with the two-year anniversary of TPONG's original ebook release in October, 2020 had other plans. Still, it's available now, and narrated by Bram Stoker-nominated author Gemma Amor, whose voice takes hold of TPONG so readily that I can't look at the book's text anymore without hearing her voice.
Check it out!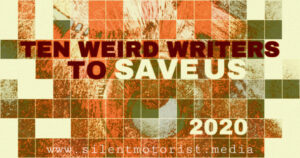 Earlier this week, I was honored to be placed on Silent Motorist Media's list of Ten Weird Writers to Save Us in 2020. Authors were nominated by readers and chosen by editors and writers. I'm proud to be here, and especially proud that this list is so inclusive.
Lastly, my new queer cosmic horror novella, The Worm and His Kings, releases in just two days! Off Limits Press is now sold out of copies, but it can still be ordered in ebook and paperback from Amazon. It's been a long time coming, but the Worm is nearly here!