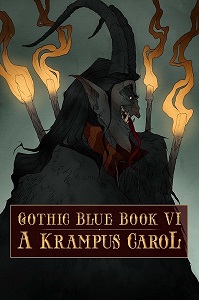 I'm supremely late in updating for this, but it's also been a rough several days. In any case, on Halloween, Burial Day Books recently released Gothic Blue Book VI: A Krampus Carol, 31 short stories and poems of Christmas-flavored horror, one story or poem for each chilly December night.
In the middle, you'll find my story of babysitting gone wrong in "The Last Noel." Wear a coat; it's cold in those woods.
I also recently had the pleasure of appearing on the Dead Headspace podcast to talk about writing process, influence, and The Worm and His Kings, my new queer cosmic horror novella releasing from Off Limits Press on November 15.
Speaking of which, that's only six days away! And just in time, the paperback is now up for pre-order on Amazon, too.