2020 has been a long one, and the journey from announcement to release for my queer cosmic horror novella has sometimes felt stretched between distant stars.
But today's the day! The Worm and His Kings is here, published by Off Limits Press!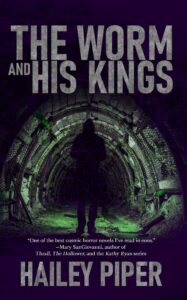 New York City, 1990:
When you slip through the cracks, no one is there to catch you. Monique learns that the hard way after her girlfriend Donna vanishes without a trace.
Only after the disappearances of several other impoverished women does Monique hear the rumors. A taloned monster stalks the city's underground and snatches victims into the dark.
Donna isn't missing. She was taken.
To save the woman she loves, Monique must descend deeper than the known underground, into a subterranean world of enigmatic cultists and shadowy creatures. But what she finds looms beyond her wildest fears—a darkness that stretches from the dawn of time and across the stars.
"Hailey Piper's The Worm and His Kings is haunting and beautiful, heartbreaking and triumphant, a story of harming and healing, of knowing when to hold on and let go. It is a story of transcendence in a way Lovecraft's work should have been. One of the best cosmic horror novels I've read in eons." — Mary SanGiovanni, author of Thrall, The Hollower, and the Kathy Ryan series
"Eerie and visceral, Piper combines the supernatural with the deeply human in a novella that explores the many faces of horror, at once haunting and familiar, yet utterly new." – A.C. Wise, Nebula Award-nominated author of Catfish Lullaby