This week has been busy! The Worm and His Kings, my new queer cosmic horror novella, released from Off Limits Press on the 15th, and it's now available from Bookshop if you would like to support indie bookstores.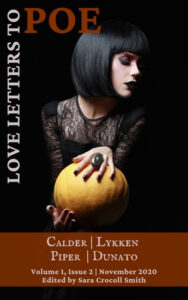 In the short fiction realm, Gothic horror magazine Love Letters to Poe published my coming of age tale "The Inheritance Thread" in their most recent issue. It's a story of lineage and burdens, and the long-sought voice of a mother. The magazine's podcast, available on both the site and podcast places like Spotify, has an audio version to, narrated by my wife J. The page also includes a short interview with me about the story. Check it out here.
In the non-fiction department, I've had the pleasure of appearing on several venues:
Gabriel Hart invited me to LitReactor, where we talked cosmic horror and NYC.
Necronomi.Com had me on to talk in depth about one of my favorite horror movies, The Wicker Man (1973).
And most recently, I appeared on the Women in Horror Film Festival Facebook page for a video interview about The Worm and His Kings.