Happy December busy time! I'm a bit swamped, and so I'm a little late with updates, but here are a few things that have popped up of recent.
At the end of November, my horror mystery "Brain Trust" was the cover story in Planet Scumm #9. We open with a bathtub full of brains, the latest in a baffling string of situations in this steampunk city.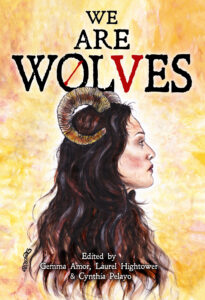 This past week, We Are Wolves released from Burial Day Books. Edited by the incredible Gemma Amor, Laurel Hightower, and Cina Pelayo, this charity anthology gathers women's horror fiction and howls at the moon like nothing before. Among the many wonderful stories, you'll find my cinema-laced tale of expectation, exploitation, and community in "The Curse of She, Part 6: The Final Girlfriend."
Over at Nightworms, I chatted with Andrew "the Book Dad" about my new queer cosmic horror novella, The Worm and His Kings." Check out the interview here.
And speaking of Worm, it's now available on Barnes and Noble!