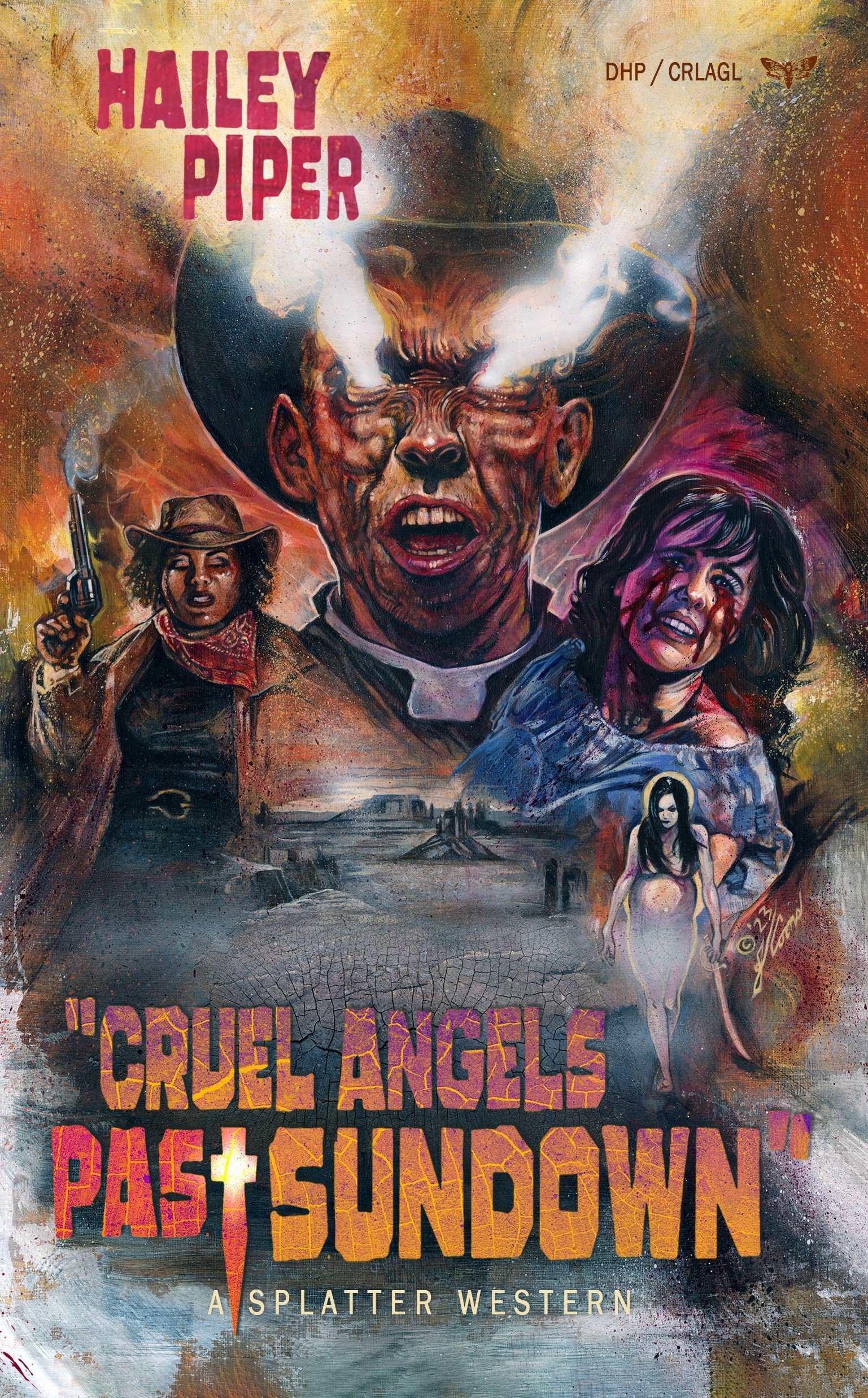 It's release day!
Overjoyed that my new novel Cruel Angels Past Sundown is out at last from Death's Head Press and flashing that amazing Justin T. Coons cover art like its Splatter Western fellows.
It's out in paperback and ebook today, which can be ordered at Amazon, Barnes & Noble, Bookshop, and soon enough the audiobook will be out, narrated by Jenn Lee, whom you might have heard on the audiobook for Queen of Teeth.
New Mexico Territory, 1882: She comes to the Klein ranch at sunset, a strange naked pregnant woman dragging a cavalry saber. Annette Klein and her husband have built peace between their marriage and secret relations beyond, but their serenity dies in bloodshed tonight through a cannibalistic demon and a mad preacher.
Annette barely escapes the bloodbath to the nearby town of Low's Bend. where she might find safety with a shotgun-toting barkeep, two no-nonsense boarding house ladies, and the gunslinging bounty hunter who's captured Annette's heart.
But hell is at her heels. If she's going to survive until dawn, she'll have to forget everything she knows about peace and mercy, and face a hollow malevolence more ancient and ruthless than she's ever imagined.
One of Paste Magazine's "15 Horror Books We Can't Wait to Read in Summer 2023"
"Cruel Angels Past Sundown is a gorgeous, bloody, surreal nightmare with a palpable, pulsing heart. Piper's innovative prose is tactile and immersive. It binds you to Annette's soul and the people of Low's Bend and makes you want to fight for them. Long live queer horror in the face of those who would call us blasphemous. Thank you, Hailey, for this battle cry in the darkness. This book is a treasure."
– Suzan Palumbo, Nebula Finalist, author of Skin Thief
"From its unforgettable opening image through to its furious, apocalyptic-in-the-original-meaning-of-the-word climax, Cruel Angels Past Sundown moves with the implacable dread of a nightmare. But the slashes it leaves in your gut, and the hardpan dust it rubs in the wounds, are all too real."
– Nat Cassidy, author of Mary: An Awakening in Terror