One more Halloween announcement–fitting because October 31st is his day.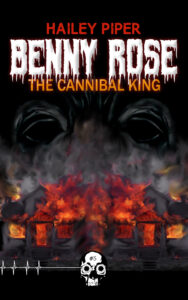 Benny Rose, the Cannibal King will be released by Unnerving on January 23rd, 2020.  Does his name sound familiar?  All the kids of Blackwood, Vermont tell his stories, sing his songs, keep alive the memory of a man who never existed … or did he?
There will be more updates to come as the release date draws closer, but for now feast your eyes on the cover art.
And dread the legend of the Cannibal King.